How Mind­Tags works
We would like to show you how flexible MindTags is and at the same meets the demands of various user groups.
We therefore asked our mascot Paul to explain our App.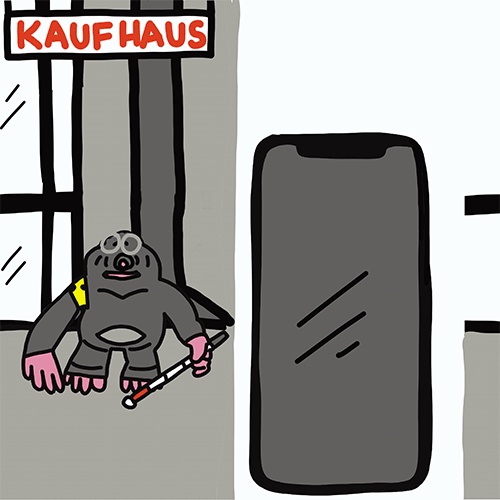 Inclusive and sustainable
Information can be created with respect to different user groups (for blind, deaf, children persons with limited mobility or in simplified language) and their needs.
Our user-friendly MindTags content management system lets you administrate and update multimedia content effortlessly in one app.
You can enter or update your data easily at any time. That makes MindTags your ideal partner to provide tailor-made information matching with the needs of your customers.
Easy to implement
Installing MindTags does not require any construction work. It can be easily implemented as well as integrated in a consisting building structure. Already existing guidance systems can be included to create a comprehensive digital information system.
The modular construction makes it a flexible system, which can be expanded at any time. Do you want to use MindTags on your entire site? Or do you prefer to equip only parts of your building? No matter what you choose, we will find your individual and expandable solution fitting your budged and needs.
Let us digitize your site!
Possible sites of operation for MindTags are:
Administrations, townhalls, ministries
Universities, colleges or other educational sites
Hotels
Museums and exhibitions
Hospitals, airports, and train stations
MindTags guarantees a maximal use by minimal efforts and costs. Let your mind run free and together we'll find fitting solutions to integrate MindTags in your projects.
Navigating with MindTags
Image the following situation: You caught a train and now you are arriving at a train station you have never been before.
You found the tacticle indicators so now you are ready to make your way to the subway.
You reach the first intersection: What to do now? No one is around that I could ask for help.
If MindTags was installed in this building, all the data you need would be at your fingertips and you knew which way to take. Combining this information at all intersections would allow you to explore new places independently.
Just like a distance sign on the highway.
FAQ - Frequently Asked Questions
Do I need internet access to use MindTags?
No, it also works offline. When MindTags is online, the app will download all necessary data, so you can access them offline.
You should go online occasionally to get the latest information.
What kind of contents is the app showing?
Directions
Texts
Contact data
Documents
Photos
Audio files
Videos
Which formats are supported by the app?
Texts
Photos
Maps
Texts in simplified language
Videos for deaf persons
Does the app need to be active to listen to contents?
Yes, the app needs to be activated. If MindTags is installed at your current location it will show you all suitable information.
Do I need to hold my smartphone in my hand while walking?
You need to hear your smartphone and only navigate now and then like with an audio player.
Can I download the MindTags projects directly from the website?
No, your smartphone downloads those automatically. After installing or updating the app online, all projects are available on your smartphone or tablet.
What is MindTags?
Our system consists of different hardware components that provide information like small lighthouses. Your smartphone or tablet receives the signal and guides you safely through a building.
Which devices are supported by MindTags?
The app runs with Android and iOS. Through Bluetooth it finds out which information it should display. NFC is also helpful to get further input. Additionally, your device should be able to connect to the internet.
Nearly all smartphones are able to use MindTags.
Can I update my data on my own?
Yes. We offer a training session where you can learn how to update your data.
Can you install MindTags in historic buildings?
Our hardware is compact and can be glued to the wall. That's way removing is easy and no construction work is necessary.
How much does MindTags cost?
The app is available for free.
The costs to equip a location with MindTags can vary and are best to talk through in a personal meeting on site. After that we can you good offer. The costs depend on how many hardware devices will be needed and on the amount of data (directions, documents, videos etc.) need to be inserted to our content managing system.
MindTags is a modular system. Therefore, it is possible to provide individual solutions from basic to full-range.
Administrate
Our user-friendly content management system lets you type in and update your information easily.
Transfer
Your multimedia content gets linked to QR-Codes, NFC Chips or Bluetooth beacons and can be played wirelessly via scan or by simply approaching them.
Receive
Your guests and visitors get the barrier-free content via smartphone or tablet. It works without WiFi or GPS signal.